Even though my technology hiatus was a much needed event, I'm a little sad I didn't get to write about all the Christmas-y themes of the season that I'm sure you've had planned/bought/tied up with a little bow far before today
(I feel sure there were plentiful ideas in the blogging world for you, however)
. However, there
is
one thing left that often misses planned preparation during the holidays due to everything else that deserves tending to:
yourself
.
It's easy to lose sight of yourself in
the Season of Giving
, on a day when all the cooking and gift-giving and hugging and loving can leave time for little else
(and rightfully so)
. As a procrastinator who enjoys to-do lists
(oxymoron, I know)
, I've been faced with this unprepared-to-greet-my-guests/family situation more times than not as well. But the simplest of last-minute looks can be refreshed in a fun and festive way with a few easy,
takes-no-time at all preparations
, leaving more time for the festivities and less time in front of the mirror:
1. Easy As Pie Hair:
These messy, undone waves take no time at all but will look as if you've had plentiful time to primp. Use your usual styling products, then curl hair in one inch sections, starting the barrel around ear level and leaving the ends slightly uncurled for the unfinished look. Don't run your fingers through the curls until they are cool and you're all done, then finger brush and spritz lightly with hair spray.
( I always leave my long bangs untouched and finish them up with a flat iron to make sure they are just right)
.
I tried this sleek bun for the first time last week and was surprisingly pleased with the results. Blow dry your hair backwards, away from your forehead to ensure it goes back smoothly
(a styling cream is a perk as well)
. Then gather your hair in a high ponytail, twisting and pinning as you create the actual bun. I pulled at my bun a little to make it appear loose and pretty, then sprayed freely with hairspray to ensure you don't get fly-aways or baby hairs that peak out.
Big, glam earrings are a must.
There are also two great articles from InStyle here: one for lots of different
bombshell hot roller styles
, and another for
party ready do
's.
2.
Understated Red Touches:
Nothing says festive like
red fingernails
. Classy and glamorous, they can be the finishing touches for the simplest of outfits. My personal favorite reds: OPI Vodka and Caviar and Big Apple Red.
A trend I've always wanted to conquer and have never been successful in to date, red lips are another red alternative that draw the eyes to understated glamour in a flash.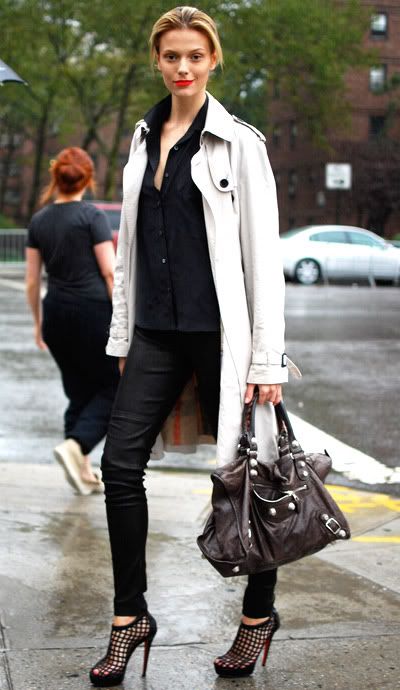 3. Picture-worthy Primp:
With all the pictures sure to be snapped, take a second the night before to prepare your skin with a holiday glow to disguise the winter weather skin. I swear by a light coat of
St. Tropez
sunless tanner before an event, which leaves you with a the prettiest of light bronze streak-free glows after a shower. Still not enough time for that? Swipe a light bronzer on your cheekbones, down your nose, and across your chest for a healthy, camera-ready glow.
Perk
: gloss shows up better on golden skin.
Now, throw on whatever you may and you'll still look the part of the pulled-together domestic goddess that you are this Christmas.
There
. Now I've contributed to the Christmas preparations of the blog world.