Born and bred in Mississippi, the culture of the South is as ingrained in my existence as my mother's table manners and my father's love for football (both of which, ironically, are basics of a southern identity). The South has perfected the art of entertaining, manners, and ambiance. Home to heroes, socialites, and traditions alike, the South embodies customs that are adopted in places all over the country. While true Southern hospitality can't be wholly copied, it is often re-created, and serves as molding the affected person into a true gentleman or lady. Here to help spread the charisma of the South are a three of my personal favorite publications:
1.
Garden and Gun
: self-proclaimed "soul of the New South", this magazine explores southern destinations, recipes, style, celebrities and events. A southern smorgasbord of culture.
2.
Y'all- The Magazine of Southern People
is based in our very own
Oxford, MS
(the center of the universe in
southern charm and charisma
). Focused mainly on southern celebrities, this magazine also has regular topical columns, including
Wine Down South, What Southern Women Know,
and
Cranky Yankee.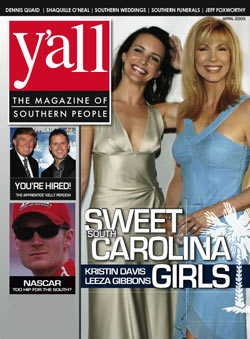 3. This list could not exist without the glory that is
Southern Living.
From decorating, to cooking, to entertaining, manners, and dress, this magazine embodies a southerner's perspective on life for all who aren't as fortunate to live below the Mason-Dixon line and with new tips and details for those who are. As their tag line declares, it really is "the best of Southern life."