Bubbly, sweet, oh-so-glam, and
just plain fun
. Whether you're going to be out on the town in a
flash
of glitter and friends, or
cuddled
up on the couch with a significant other and a roaring fire to welcome 2011,
champagne
is a
New Years Eve essential
. Have it....
... with sliced strawberries for a sweet and elegant touch:
... served after dinner, chilled in champagne flutes. Champagne Pomegranate Jell-O recipe
here
.
... baked into dainty cakes for surprising flavor. Champagne cake recipe
here
.

... kicked up a notch in a punch with white wine, cranberry juice, lemonade, and club soda. Champagne punch recipe
here
.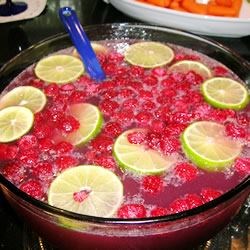 ... or elegantly served with grape skewers (Grapes are good luck in Spain when eaten at midnight).
---or, of course, by just indulging in the moment.
(I've always wanted to try this trick- think it really works?)
And to all my girls... Can't wait to see you in just a few short days for celebration and reunion...
Title attributed to a throwback high school favorite song of mine. Come on, you loved it too
.